Hello I'm Naozo Nagata from sales department of DesignMeishi.net here.
Writers around us are always very busy.
"DEAD LINE" makes them crazy but a little funny.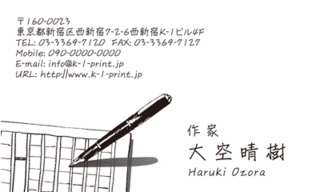 One day a friend of mine carried her note pc to the mountain,
and made her copy perfect. But She couldn't send the copy to her office,
cause we are in deep mountains.
So, we went down the mountain.
It was a special camps for us ,We spent 6weeks for preparation.